Did you know that parents take the first step to making their child's first visit to the dentist enjoyable and positive? When the parent is excited about the child's first visit, the youngster becomes excited, too!
If old enough, your daughter or son should be informed of the visit and told that the dentist and staff are going to help her or him make sure teeth are healthy, and if the patient is a helper, it can be easy and fun! We are pros at making sure your little one feels comfortable and has a great time, so leave the rest of the explaining to us!
We know that most times older siblings are very helpful, but we also know that sometimes they aren't…. It is best if you and any older siblings please refrain from using words around your child that might cause unnecessary fear, such as "needle," "shot," "pull," "drill," or "hurt." We make a practice of using words that convey the appropriate message but are pleasant and non-frightening to the child.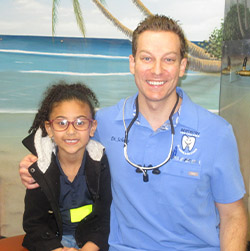 Most of all, it's important to establish a dental home, so that if a concern or an emergency comes up, your child is already established with our practice and you can avoid an unnecessary trip to the Emergency Room. The AAPD and our practice recommend establishing a dental home when your son or daughter's first tooth comes in, or the first birthday, whichever comes first.

Your first visit is all about your child: his or her comfort, happiness, and health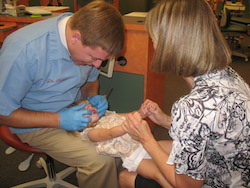 On the day of the first appointment, we suggest you allow your child to accompany our staff through the dental experience. Our goal is to gain your child's confidence and help him or her overcome apprehension. Just like when kids go to school, most times our highly trained staff can establish a closer rapport with your little one when you are not present.
However, if you would prefer to stay with your child during the initial examination, please make our staff aware so we can better accommodate your request. We kindly ask that you inform our office of any such requests when scheduling the first appointment.
We can't wait to meet you and your child!