Working with children is one of the most rewarding things you can ask for. There is no better feeling than helping a child transform themselves from having tears at the thought of going to the dentist to jumping up and high-fiving you once the procedure is over!
In the years I have been practicing, I have found myself increasingly drawn to working with children with special needs. Nationally, and in Lakeland especially, there is a severe lack of access to dental care for children who need a little more attention.
By seeking out and learning from experts in pediatric special needs dentistry, I have adapted a program for our practice. We break down what, for some, can seem like a long and overwhelming dental visit into small and more manageable goals. In this way, we help these children to become desensitized to the aspects of dentistry that, for them, can be a sensory overload.
I have also taken a great interest in learning how to diagnosis and treat children that have a tongue or lip tie. We are learning a great deal about the problems these tethered tissues can cause, and also the dramatic improvement of function that can be seen with a proper release. If you believe your infant or child has a tongue or lip tie, please schedule an appointment with me so we can evaluate it further!
Education and Experience
I was raised in Richmond, Virginia, and attended Virginia Commonwealth University; there I was awarded my Bachelor of Science and my Doctorate of Dental Surgery.
Following dental school, I pursued an additional year of advanced dental training as an officer in the United States Air Force and then served in Germany. It was the experience of caring for the children of active-duty service members that led me to discover my passion: working with children and helping each achieve good oral health and happy smiles!
I returned to school, this time at the University of Florida Department of Pediatric Dentistry, for my specialty training and residency.
I have practiced dentistry for a decade and specialized in pediatric dentistry for more than four years.
Continuing Education and Professional Affiliations
Like all areas of healthcare, pediatric dentistry is a constantly advancing field. Staying current on the latest developments in techniques, materials, and technology ensure I am providing each child with the highest quality of treatment, with predictable and stable results.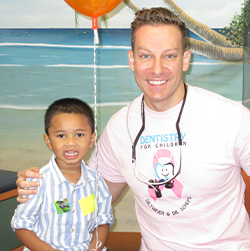 Many of the continuing education courses I take do not simply focus on dentistry but also address other areas of medicine that are applicable to pediatric dentistry. In this way, I can better understand the human being attached to the teeth, and provide a more comprehensive exam, evaluation, and treatment plan for my young patients.
I am a Diplomate of the American Board of Pediatric Dentistry and earned the Richard C. Pugh award for outstanding performance (top 3%) on my board exam. I am also a member of the:
American Board of Pediatric Dentistry
American Academy of Pediatric Dentistry
Southeastern Society of Pediatric Dentistry
Florida Academy of Pediatric Dentistry
American Dental Association
Polk County Dental Association
Pinellas County Dental Association
University of Florida PedoGators
I take every opportunity to attend in-person or virtual conferences to continue to learn and further my understanding of pediatric dentistry.
Beyond the Office
I live in St. Petersburg with my wife, Dr. Amy Luce. She is also a pediatric dentist and practices here! We have a Miniature Dachshund, Sadie, and the three of us love exploring all the new brunch spots that come around.
Amy and I love to travel, too. We grab any excuse to take trips and explore places we've never been, whether an hour away or overseas.
By the way, I have a huge, crazy sock collection to cover most any occasion!