I truly love my profession. It gives me tremendous satisfaction to make a positive difference in a child's life.
Many children are afraid of the dentist. I feel it is my responsibility to do everything I can to help children not be scared and actually look forward to caring for their oral health. I go home happy if I have had a positive impact on a young patient: whether that was a worry-free first visit, improving a little boy or girl's self-esteem with a restored smile or a fixed broken tooth, or relieving a throbbing toothache. Each day allows me to change children's lives and their perceptions of dental care.
I don't know of many jobs where I can literally act like a kid all day long. I can make animal noises, sing made-up songs, give frequent high-fives, and talk with each youngster on his or her level, using superhero or princess analogies to connect and explain.
I absolutely love when we finish a procedure and the child is full of grins, saying, "I didn't feel anything!" — that always makes me smile!
Education and Experience
I grew up here in Lakeland. Dr. Harry Bopp was my pediatric dentist and mentor. He had the biggest impact on my decision to become a pediatric dentist and I am honored to follow in his footsteps. He founded our practice in 1976 and I strive every day to show my patients the same expertise and compassion that Dr. Bopp exemplified over his 43 years of practice.
I attended Davidson College for my bachelor's, and the University of Florida College of Dentistry for my Doctorate of Dental Medicine. I remained at UF College of Dentistry/Shands Hospital for my pediatric dental residency, and have practiced since 2007.
Continuing Education and Professional Affiliations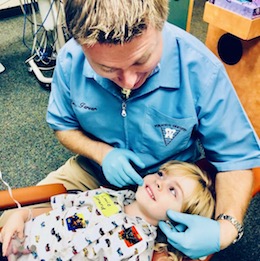 I feel it is important to stay up to date with current research and treatment modalities, from an academic and clinical perspective. It is crucial that treatment is successful and long-lasting, in order to reduce the number of future procedures.
While I study all aspects of pediatric dentistry, I am most interested in new behavior management techniques, nitrous oxide, and conscious sedation.
I am a Diplomate of the American Board of Pediatric Dentistry and an active member of the:
American Board of Pediatric Dentistry
American Academy of Pediatric Dentistry
Southeastern Society of Pediatric Dentistry
Florida Academy of Pediatric Dentistry
American Dental Association
Florida Dental Association
West Coast District Dental Association
Polk County Dental Association
University of Florida Pedo Gators
Through these organizations, I take a number of in-person and online courses. I also attend local dental gatherings and annual meetings, learning from the leaders in pediatric dentistry.
Beyond the Office
I was born and grew up in Lakeland; I am blessed to have an awesome family with my wife Shea, our son Ward, and our two Goldendoodles, Kona and Dotty. I love spending time with my family and friends. I enjoy the water, aviation, listening to U2 (my favorite band), and all things Gators.
I am blessed to be a pediatric dentist and to be able to make positive differences in children's lives by showing enthusiasm for good oral health.
I firmly believe all children should be treated with kindness and compassion, as if they were members of my own family.