The cost of treatment may vary, depending on your child's individual needs and treatment plan. We will discuss the cost of treatment and each of your available payment plan options with you before your child begins treatment, so you can make the best choice for your child and your family.
Affordable Payment Plans
Your youngster's smile can last forever, and we want to make it as easy as possible to receive the best dental care whenever needed.
Our practice accepts most major credit cards and insurance plans.
Please note the contracts are subject to change without notification and vary by employer group. Individuals should contact their insurance provider for verification.
AMERITAS PPO
ARGUS FLORIDA HEALTHY KIDS
ASSURANT PPO
CAREINGTON DISCOUNT PLANS (CARE POS, 500 SERIES, AND HIP VIP ONLY)
CIGNA PPO
CMS TITLE XIX THROUGH MCNA ONLY
COMPBENEFITS PPO
COMPBENEFITS CS-SERIES ~ (NOT TO BE CONFUSED WITH C-SERIES)
COMPBENEFITS ADVANTAGE PLANS
DELTA DENTAL PPO
DENTEMAX PPO
DHA NETWORK
FLORIDA MEDICAID THROUGH MCNA AND DENTAQUEST ONLY
GUARDIAN PPO
HUMANA ADVANTAGE PLANS
HUMANA PPO
MCNA/FLORIDA HEALTHY KIDS
METLIFE PPO
SOLSTICE PPO, SOLSTICE DISCOUNT PLANS, SOLSTICE PREPAID PLAN FOR PUBLIX EMPLOYEES ONLY
STANDARD PPO
UNICARE
UNITED CONCORDIA
UNITED HEALTHCARE PPO
If you do not see your insurance company listed, please email our insurance coordinator at brittney@tarverscheps.com for more information.
Out of Network / Non-Contracted Insurance Companies
Dental insurance is a contract between you and your insurance company. We are not a party to this contract. We are more than happy to bill your primary insurance company as a courtesy to you.
Your insurance company pays a percentage of their usual and customary fees which may or may not be the same as ours. Unfortunately, they will not tell us their fee schedule, so we have no way of knowing exactly what they will pay. You will be responsible for the portion of our fees that are not covered by your insurance company.
Please let us know if you have any questions about insurance coverage and let us know how we can help to make your entire dental experience a pleasant one.
CareCredit® Financing
We are proud to offer financing options through CareCredit. CareCredit can be used like a credit card in certain offices. You can pay for your services over an extended period of time so you don't have to worry about how you are going to pay for the care you need.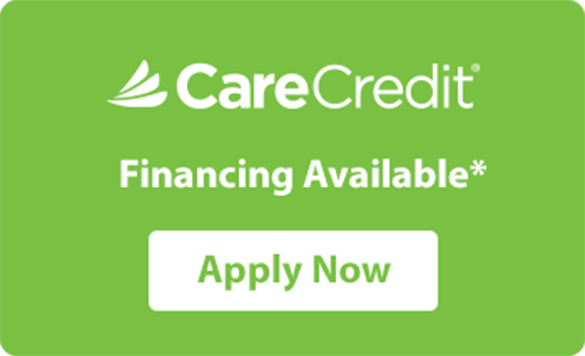 CareCredit offers many different payment plans with different payment dates and time frames, even some that are interest-free.
To apply for CareCredit, or to make a CareCredit payment to our office, click on the link provided!